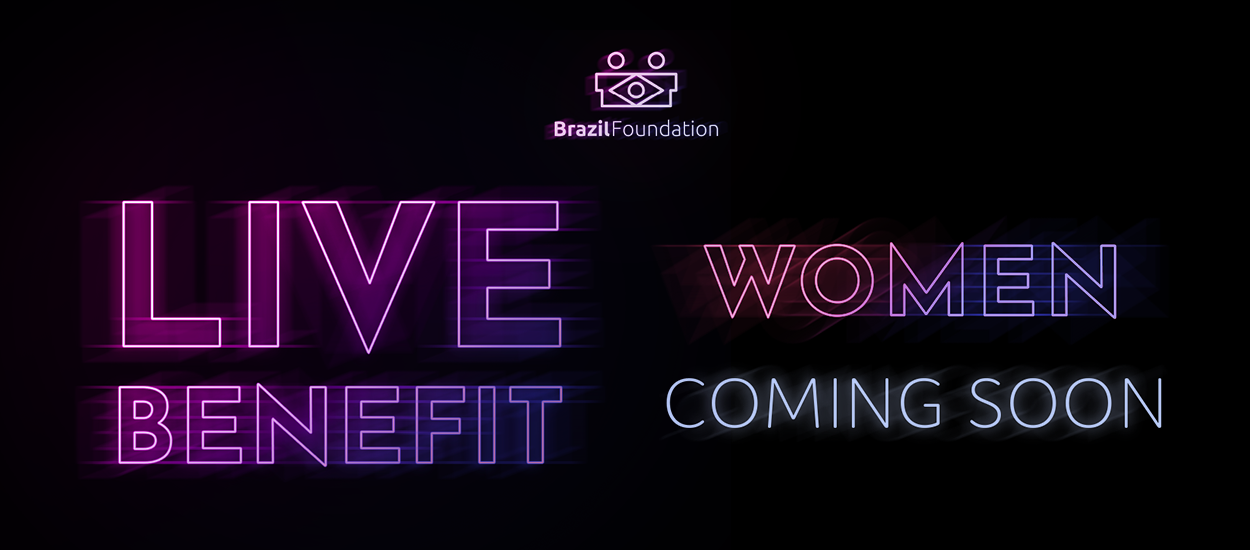 Due to safety precautions in regards to the rapidly worsening COVID-19 situation in Brazil and Rio de Janeiro, our Live Benefit, which was scheduled to take place on Saturday, March 27th, has been postponed, with the new date yet to be determined.
Our II Live Benefit will celebrate women and their leadership in the entire philanthropic process - especially at this moment in the pandemic. We will provide further updates as soon as they are available.
When
New date to be announced
Where
Online, around the world, for free on the following social media channels:
Presenter
Flávia Alessandra, Roberta Rodrigues
Shows
Roberta Sá, Malía
Notable Woman
Mafoane Odara, for her contributions to the protection of women's rights
Honorees
Virginia Bartolomeo, BrazilFoundation donor and partner
Women Project Leaders
Bia Kern, Mulher em Construção (Porto Alegre, RS), Eliana Sousa, Redes da Maré (Rio de Janeiro, RJ), Marisa Chaves, Movimento de Mulheres de São Gonçalo (São Gonçalo, RJ), Rita Teixeira (Capanema, PA)
Contributions to BrazilFoundation are tax-deductible to the extent permitted by law in the United States and in Brazil.
Women during the pandemic
The pandemic has exacerbated Brazil's serious, longtime social problems and further highlighted gender inequalities. As women still shoulder more of the responsibility for housework and children, they have been hit the hardest by the economic crisis, being even more burdened now with housework on top of the challenge of managing their children's schooling. Furthermore, studies show that women have experienced more emotional stress due to the pandemic. On the frontline for healthcare professionals, black women have been the ones who have suffered the most from the health crisis. Social isolation has also intensified violence against women and girls, particularly through domestic violence.
Our commitment to gender equity
Since its creation, BrazilFoundation has connected people and organizations to promote social transformation in Brazil. With investment in women and girls' development always as one of its focuses, in 2014 the foundation created the Women's Fund to more systematically direct resources to the area. The foundation remains committed to this work, both now at a critical time when Brazil's social issues have been exacerbated, and in the long run.
Co-Chairs
Claudia Amboss, Mauricio Morato
Patrons
Bank of America, JP Morgan
In-Kind Sponsors
Adorni Films, INDEX, OTALAB
Junior Amaro: jamaro@brazilfoundation.org
Phone: +1 646 657 5088