Holiday Party to Support Mariana and the Rio Doce Region, Hosted by Gabriela Duarte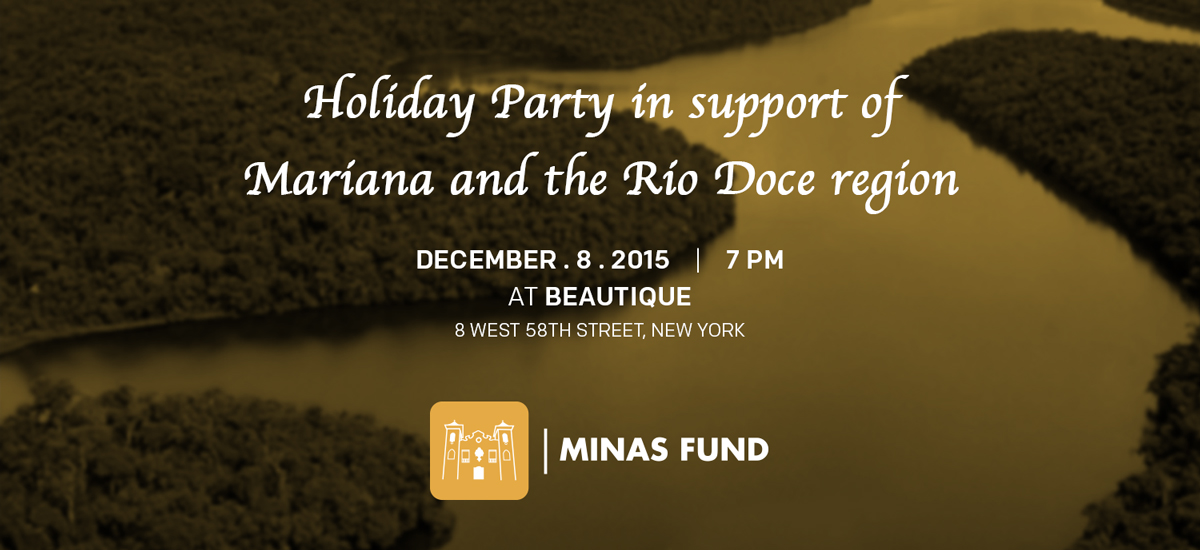 Tickets
*Tickets will not be sold at the door, and will increase to US$100 on day of event. Tickets are tax-deductible and non-refundable.
On November 5th 2015 Brazil saw its worst ecological disaster in decades, one whose social and environmental effects will have a long term impact on the Rio Doce region.Two water dams burst in the town of Mariana, Minas Gerais, killing dozens, displacing hundreds, and destroying thousands of hectares of protected land.
Join us on December 8th to help us raise funds for the BrazilFoundation Minas Fund, a newly-created fund that will invest in socioenvironmental initiatives in the state of Minas Gerais, with a special focus on civil society organizations in the affected region. All proceeds from the event will go to the Fund.
When: December 8th, 7 PM
There will be a special signature drink offered for the first hour. Event will also feature a silent auction.
Where: Beautique, 8 West 58th Street, New York
Host: Gabriela Duarte
Host Committee: Alexandre Tutundjian, Bruna Braga, Bruno Ramos de Sousa, Bruno Simonato, Camila Penna, Celeste Owens, Cristiane Cavalcante Buntin, Julia Dal Pont de Azevedo, Karina Vianello, Lenka Soares, Luciana Curtis, Luciana Leite, Manuela Giannini, Marcelo Reali, Michelle Viana, Natália Beber, Rafael Azzi, Ricardo Martiniski, Roberto Simonsen, Vanessa Pereira.