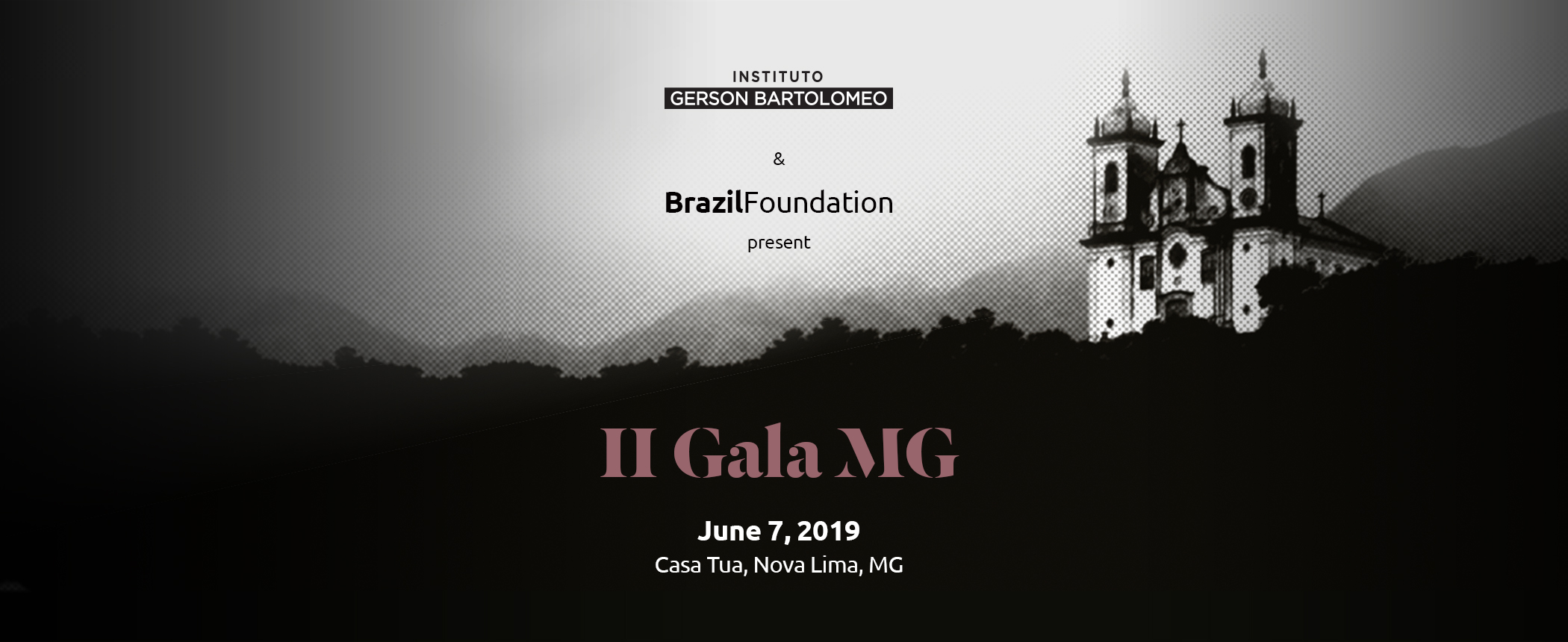 The II BrazilFoundation Gala Minas will gather 300 people from the business, diplomatic and artistic communities of Brazil and around the world to celebrate BrazilFoundation's efforts for a more just and equitable Brazil. Proceeds from the gala will help fund additional social initiatives in Brazil in the areas of Education and Culture, Health, Socioeconomic Development, Human Rights and Civic Engagement, and Social Enterprise.
BrazilFoundation is a non-profit created in New York in 2000 that mobilizes resources for ideas and actions that transform Brazil. In 18 years, the Foundation has raised over US$40 million and supported over 600 social projects in 26 states in Brazil.
When
Friday, June 7, 2019
20:30 
Where
Casa Tua
R. Hudson, 491 - Jardim Canadá
Nova Lima - MG, 34007-640, Brazil
Master of Ceremonies
BrazilFoundation Ambassador Flávia Alessandra
Auction Hosts
Camila Coutinho, Francisco Costa, Samantha Schmütz
Auctioneer
Paulo Leite
Show
Gabriela Pepino
Closing Performance
DJ Valber & Leo Moura, Sax
Dr. Henrique Moraes Salvador Silva - President, Rede Mater Dei de Saúde
Henrique Moraes Salvador Silva is a medical doctor specializing in Gynecology, Obstetrics and Mastology. He is a professor, researcher and author of more than 300 scientific articles and 11 technical books, having completed his studies in England, Canada, the USA and Germany. Formerly, Dr. Moraes Salvador Silva served as president of Sociedade Brasileira de Mastologia (Brazilian Society of Mastology) and Associação Nacional de Hospitais Privados (National Association of Private Hospitals). He is currently president of Rede Mater Dei de Saúde. Through the entity's program "Pra você ficar bem", he works to provide healthcare access to patients, families and residents from vulnerable communities. The program benefits 30,000 people through its free healthcare, education and social services for children and adolescents, food donations and support for culture and the local creative economy.


Corpo de Bombeiros Militar de Minas Gerais
The Corpo de Bombeiros Militar de Minas Gerais (Minas Gerais firefighters) was founded in 1911 in Belo Horizonte, providing more than 100 years of service to the state. More than 1,850 firefighters from Minas Gerais and other states have been active in Brumadinho since the Corrégo Feijão mine dam collapse in January of 2019. At first, the firefighters focused on rescuing survivors and ensuring the safety of residents. They are now faced with the difficult task of recovering bodies from the mud.
So far 240 bodies have been identified and many people are still missing, with the rescue teams continuing their searches. Today an average of 150 tireless heroes, including 4 dogs, 100 machines and several drones are active in the region, with no end to the work in sight. Along with searching for the disappeared, the firefighters are working to remove the mining waste from the area.
Presenting Sponsor
Gold Sponsor
Silver Sponsors
Chairs
Lilian & Mauro Tunes Júnior
Host Committee
Camila & Eugênio Mattar, Camila Chiari & Paulo Henrique Pentagna Guimarães, Daniel Prado, Julia Guimarães Paes, Juliana Naves Guimarães, Lilian & Mauro Tunes Júnior, Rejane de Paula, Virgínia Bartolomeo.
Benefactors
AeC, Banco BMG, Banco BS2, Camila & Eugênio Mattar, Estácio, Fundação Pitágoras, Instituto MRV, Julia Guimarães Paes, Juliana Naves Guimarães, LCM Construção, Lílian & Mauro Tunes Júnior, Luciana & Rafael Sportelli, Mason Holdings, Patrus Transportes, Rede Mater Dei de Saúde, Safra National Bank of New York.
Partners
Adorni Films, Audi Center BH, Benedita Comunicação, Best Produtora, Bravo Brasil, Cachaça Tiara, Café das Amoras, Cardcom, Club do Chef Buffet, Equipe1 Som e Luz, Francisco Dumont Fotografias, Geloso, Help!Bar, Hilton Impressos de Luxo, Ingá Água Mineral, LecaNovo, Mariana Laender Handmade Sweets, Millenium, Novah Festas, Pif Paf, Plena Alimentos, Sacolão Real, Supernova, Vagalumens, Vista Eventos
Auction Donors
Baglioni Hotel Regina, Camila & Eugênio Mattar, Cartier, Clube Atlético Mineiro, Flavio Geo - Visa Turismo, Francisca Botelho, Hotel Fasano, Humberto Hermeto & Débora Sacramento, Janaina Tschäpe e Fortes D'Aloia & Gabriel, Leila Gontijo, Leopoldo Martins, Lílian & Mauro Tunes Júnior, Marta Micheli & Thiago Neves, Raquel Coelho, Recoder Joias, Relais Santa Croce, Rosalia Nazareth Joias, Savine Joias, The Shore Club Resort, Turks & Caicos.
The event is now SOLD OUT.
For sponsorships and other forms of payment, email Aline Silva: asilva@brazilfoundation.org.
Phone: (Brasil) +55 (21) 2532-2998 or +55 (21) 2532-3029, (USA) +1 (212) 244-3663
General Information: events@brazilfoundation.org
Press Contact: press@brazilfoundation.org
[envira-gallery id="33183"]