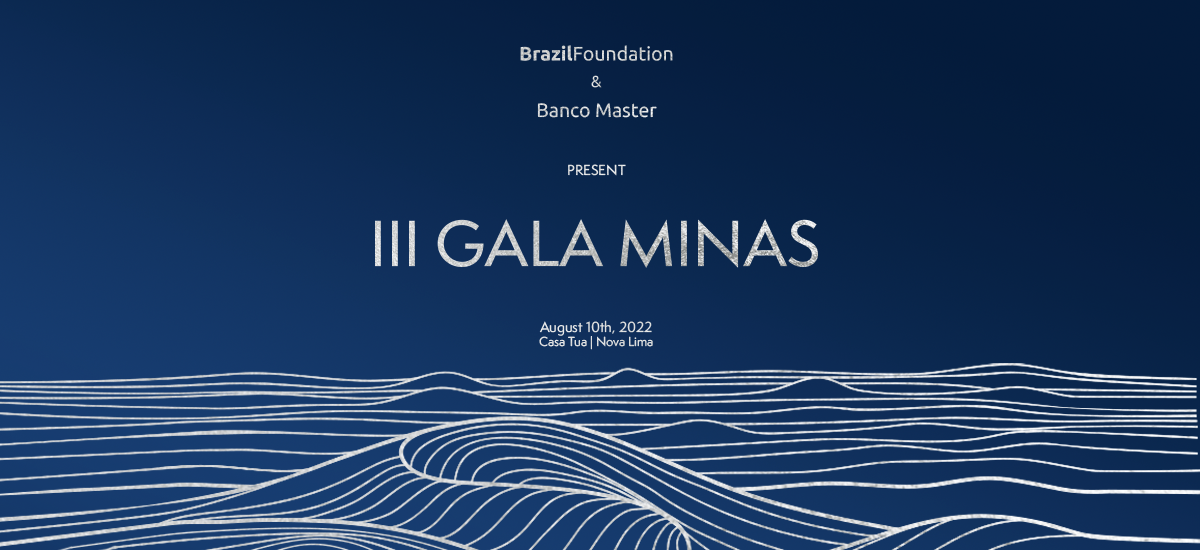 III Gala Minas
The III Gala Minas will gather 300 people from the business, diplomatic and artistic communities of Brazil and around the world to celebrate BrazilFoundation's efforts for a more just and equitable Brazil. Proceeds from the gala will help fund additional social initiatives in Brazil in the areas of Education, Socioeconomic  Development & Sustainable Livelihoods, Human Rights & Race and Gender Equity, and Environment & Climate Change.
When
August 10th, 2022 | 7h30PM (Brasília)
Where
Casa Tua
R. Hudson, 491 - Jardim Canadá, Nova Lima
Attire
Cocktail Attire
Chairs
Fabiola & Daniel Vorcaro
Honoree
Movimento Bem Maior
Founded in 2018, the mission of Movimento Bem Maior (MBM) is to identify and support impactful social initiatives that strengthen Brazilian philanthropy. Through social investing, mobilizing and connecting leaders across sectors, MBM creates opportunities and contributes to a more just, inclusive and diverse society for all.

Representatives
Carola Matarazzo
Carola Matarazzo is an Executive Director of the Movimento Bem Maior and she is also a member of the boards of Liga Solidária, Artesol and Instituto Protea. In response to her achievements in combating COVID-19, she was honored as "Social Entrepreneur of the Year" by the Folha de São Paulo newspaper in 2020.




Eugênio Mattar
Eugenio Mattar is a co-founder of Movimento Bem Maior and preaches the importance of transformative actions in an effort to achieve a more equal society. He is a Chairman of the Board of Localiza and served as the Minas Gerais president of the Junior Achievement board. He was consecutively chosen by Forbes as one of Brazil's best CEOs (2018 & 2019) and twice voted as a "Value Executive" by Brazilian publication Valor Econômico (2018 & 2021).



Rubens Menin
Rubens Menin is one of the founders of Movimento Bem Maior and he believes that adequate access to education, culture, and sports are potentially a basis for the development of a stable home. He is the founder and President of the board of Instituto MRV. In 2018 Menin was recognized by Ernst & Young as "the world entrepreneur of the year".


Masters of Ceremony
Erika Januza & Silvia Braz
Show
Fernanda Abreu | Participation: Passinho
DJ Marina Diniz
Auction Presenters
Flávia Alessandra & Rodrigo Carneiro

Presenting Sponsor

Platinum Sponsors
Gold Sponsors
Silver Sponsor
Benefactors
Alessandra and Cristiana Martins Gualberto Ribeiro, BeFly, Briskcom, Camila & Eugênio Mattar, Capanema, Pinheiro & Rennó Sociedade e Advogados, Daniela & Ricardo Puggina, Fabiola & Daniel Vorcaro, Goldman Sachs, Henrique Vorcaro, Instituto MRV, JAB Empreendimentos, Julia Guimarães Paes, Lilian & Mauro Tunes, Paulo Eduardo Martins Gualberto Ribeiro & Walter Cain, Pottential Seguradora, Saulo Wanderley Filho, TFM Agency, Virginia Bartolomeo
In-Kind
100% Eventos, Adorni Films, Casa Tua Eventos, Hotel Fasano Belo Horizonte, Index, Verde Que Te Quero Verde
Host Committee
Claudia Amboss, Julia Guimarães Paes, Marcelo Cohen, Paulo Eduardo Martins Gualberto Ribeiro, Rejane de Paula, Rodrigo Carneiro, Shawn Paul Pentagna Guimarães, Virginia Bartolomeo
Decor
Denise Magalhães
Chef
Massimo Battaglini
Ceremonial
Marina Nacif
Media Support
Vogue Brasil
Production
Audi Center BH, Club do Chef Buffet, Equipe 1 Som e Luz, Leca Novo, Mariana Laender, Marina Nacif Produção de Eventos, Romano Comunicação, Vagalumens Iluminação Cênica
Curated Jewelry Exhibition
Luciana e Carolina Campos
Auction Donors
BeFly, Camila & Eugênio Mattar, Corazzo Joias, Clube Atlético Mineiro, Fabiola & Daniel Vorcaro, Diageo, Fasano, TXAI Hotels & Resorts and Press Pod
Silver Sponsor – R$ 70.000
(Available to legal entities and individuals)
• One (1) Premium Table (in front of the stage) for 10 guests at the dinner;
• Logo on dinner invitation, website, evening's printed program and red carpet's step & repeat;
• Verbal acknowledgement during the event;
• "Your Brand" mentioned in official press releases;
• Visibility on BrazilFoundation's social media channels.
Benefactor Table – R$ 15.000
• One (1) Table for 10 people at the dinner;
• Name listed in the dinner invitation, printed program, and the screen as Benefactor;
• Verbal acknowledgement during the event.
Individual Ticket – R$ 1.500
Tickets Sold Out.
For sponsorships and other forms of payment, contact Junior Amaro: jamaro@brazilfoundation.org.
Telephone: (Brasil) +55 (21) 2532-2998 ou +55 (21) 2532-3029, (EUA) +1 (212) 244-3663
Press Contact: press@brazilfoundation.org