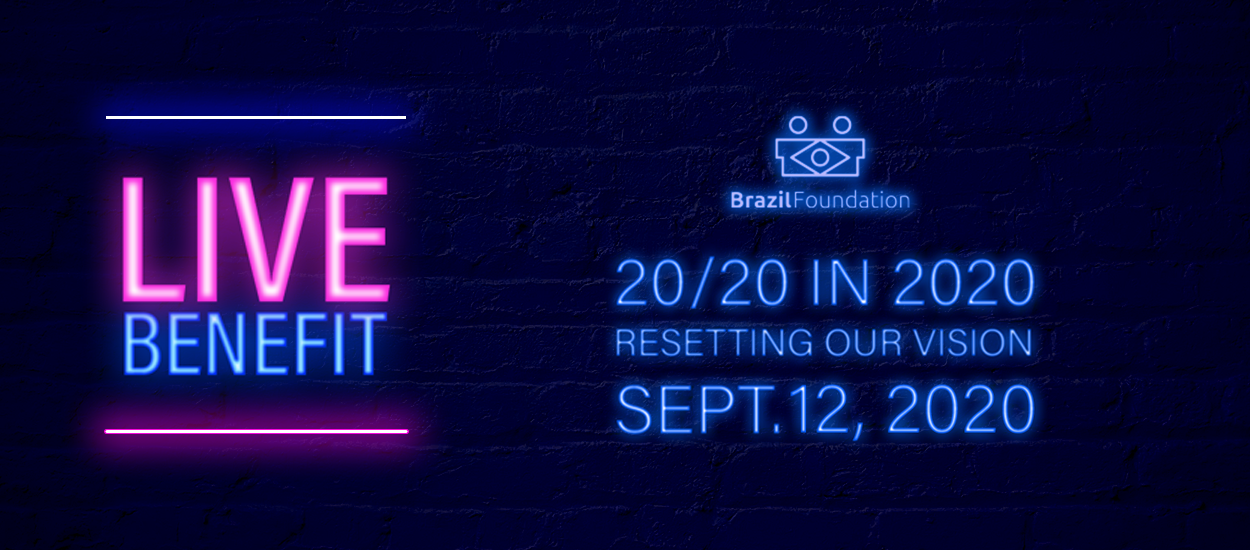 Resetting Our Vision: The hope for a better Brazil after 2020
During these unprecedented times, it is hard to imagine how our world will be in the future, and what that means for Brazil. Despite these uncertainties, we know that we need for a better Brazil - one with greater solidarity, collaboration, philanthropy, and, most of all, more equity.
For 20 years, BrazilFoundation has connected individuals and organizations to promote social change in Brazil. We have remained committed to our work at a critical time when Brazil's social issues have been exacerbated and we must continue to do so in the long-term.
Brazil is, and has always been, resilient. But now, more than ever, we need to come together. We invite you to join us as we recommit to our mission of social transformation, so that we can continue to meet Brazil's evolving social challenges.
When
Saturday, September 12, 2020
7 PM (ET)
Where
Online, around the world, for free via BrazilFoundation's social media channels and those of presenters Flávia Alessandra and Otaviano Costa:
Honoree
Leona Forman, BrazilFoundation Founder
Special Honoree for our campaign "BrazilFoundation in Action: Together Against COVID-19"
Gisele Bündchen
Presenters
Flávia Alessandra & Otaviano Costa
Performance
Preta Gil
Intro Show
Marina Diniz
Script
Vivian Perl
Direction
Patrícia Felix
Art Direction & Scenography
Priscila Paiva & Leila Chaves
Special Guests
Ana Flávia Cavalcanti, Baby do Brasil, Camila Coutinho, Carol Marra, Cauã Reymond, Claudia Leitte, Daniela Mercury, Deborah Secco, Elba Ramalho, Fábio Porchat, Fafá de Belém, Fernanda Abreu, Fernanda Gentil, Flávia Oliveira, Jair Oliveira, Jonathan Azevedo, Juliana Paes, Luciana Curtis, Luiza Brunet, Malu Mader, Marisa Orth, Mila Burns, Sabrina Sato, Samantha Schmütz, Sandra de Sá, Sheron Menezzes, Silvia Braz, Sophie Charlotte, Taís Araújo, Tania Khalill
Project Leaders
Bel Santos Mayer - IBEAC, Fernanda Mello e Marivaldo dos Santos - Quabales, João Souza - FA.VELA, Maitê Lourenço - BlackRocks, Marcio Selles - Orquestra da Grota, Marisa Orth - Spectaculu, Monica Tarragó - Ballet Paraisópolis, Rene Silva - Voz das Comunidades, Rita Teixeira - MMNEPA, Thiago Cavalli - Casa do Rio
Co-Chairs
Claudia Amboss and Mauricio Morato
Host Committee
Carla Greeb, Cristiana Mascarenhas, Eduardo Vergueiro Leite, Flavia Barker, Ilana Lipzstein, Iracilda Lichtinger, Karin Dauch, Leda Nussbaum, Lenka Soares, Marcia Tucker, Michelle Viana, Paula Reidbord, Rafael Azzi
Benefactors
Alyson & Will Landers, Cristiana Mascarenhas, Iracilda & Pedro Lichtinger, NHC Capital, Safra National Bank of New York, Silverpeak, Simoni & Mauricio Morato, Virgínia Bartolomeo
Patrons
Bank of America - Merrill Lynch, Citibank, Ilana & Roberto Lipsztein, JP Morgan, Maria Carolina & Paulo Tavares de Melo, UBS
In-Kind Sponsors
Adorni Films, INDEX, OTALAB, Zukerman Leilões
Media Partners
Vogue Brasil
Institutional Support
Ello Agency, Pedra
Bid on auction items virtually through September 18th. *Note, some items are only available for bidders in Brazil.
Bid now at www.zukerman.com.br/brazilfoundation
Auction Donors
Aila Pernambuco Brown, Alexandra Forbes, Angela Miracema Fernandes, Avadora Mimouni, Belmond Copacabana Palace, Belmond Hotel das Cataratas, David Bastos & Zeta Editora, Elisabete Gaspar, Grupo Carmel de Hotéis, Grupo Fasano, Hotel Fasano Angra dos Reis, Hotel Fasano Rio de Janeiro, Jack Vartanian, Jane Scher & Skintight Spa, João Armentano, Lapima, Ligia Santos & Caminhos Cruzados, Lilian Batista Rosa & Carl Stanton, Luiza Lavorato, Nelson Piquet Jr. & Família Sid Mosca, Nicholas Charilaos Vlavianos, Orestes Locatel, Porsche GT3 Cup Challenge Brasil, Primetour & MI LUX, Rituaali Clínica & Spa, Romero Britto, Sandro & Inos Corradin, Santidio Pereira & Galeria Estação, Sig Bergamin, Simone Kestelman, Solange Palatnik, Spa Renata França, The Fur Salon at Saks
Live Benefit supporters in the United States are eligible to participate in a raffle for a chance to win one print based on Neil Grayson's oil on canvas painting "Bandeira do Brasil". The winner will be chosen randomly on September 18th. Click here to enter.
Junior Amaro: jamaro@brazilfoundation.org
Phone: +1 646 657 5088