Benefit Luncheon for the Amazon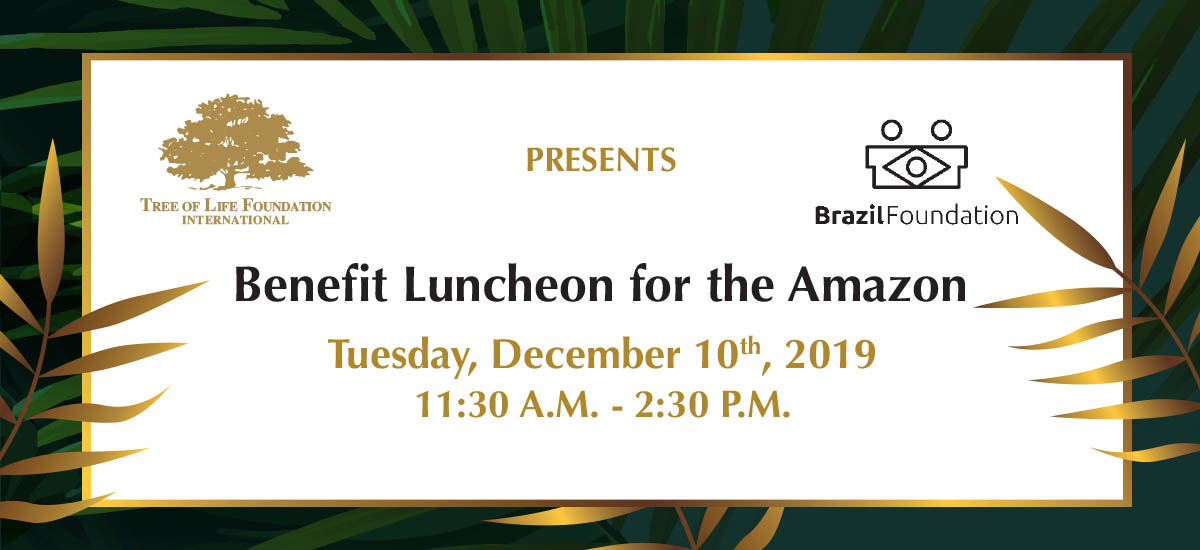 BrazilFoundation and Tree of Life Foundation cordially invite you to a luncheon in support of BrazilFoundation grantee organizations promoting preservation and environmental sustainability in the Amazon.
BrazilFoundation is a non-profit created in New York in 2000 that mobilizes resources for ideas and actions that transform Brazil. In 18 years, the Foundation has raised over US$50 million and supported over 600 social projects in 26 states in Brazil. The gala will help support projects in the areas of Education and Culture, Health, Socioeconomic Development, Human Rights and Civic Engagement, and Social Enterprise.
When
Tuesday, December 10th, 2019
11:30 - 2:30 PM 
Where
Schumacher Residence
Hosted by
Amanda Schumacher
Amanda Schumacher is the Founder and President of the Tree of Life Foundation International, a 501(C)(3) non-profit organization whose mission is to support other organizations locally and globally. She is also the President of the Tree of Life Center, a 501 (C)(3) restoration home. Her other companies include the Tree of Life Designer Store, Tree of Life Enterprise Services, and Insurance of the Palm Beaches.
She is actively involved as Vice President of Schumacher Automotive, and serves on the boards of the Palm Beach Island Hospice Foundation and the Palm Beach Republican Club. She has participated in many philanthropic endeavors which include chairing events for American Red Cross, Ann Norton Sculpture Gardens, Boys and Girls Clubs of Palm Beach County, Center for Creative Education, Easter Seals, Hospice Foundation of Palm Beach, Palm Beach Day Academy, Palm Beach Historical Society, Palm Beach Preservation Foundation, Palm Beach Zoo, and numerous others.
Mrs. Schumacher received her B.A. Degree from Pine Manor College and resides in Palm Beach and at Yellowstone Club in Big Sky, Montana with Charles, her husband of 28 years, and their five children.
Committee
James Harpel
Reid Boren
Rejane de Paula
Stella Holmes
Taylor Collins
About Tree of Life Foundation International, Inc.
Tree of Life Foundation International, Inc. is a Global initiative that advocates on behalf of the underserved. We connect gifts, talents and resources from individuals and worldwide organizations to the people and places who need them most.


E-mail: events@brazilfoundation.org
Telephone: (212) 244-3663