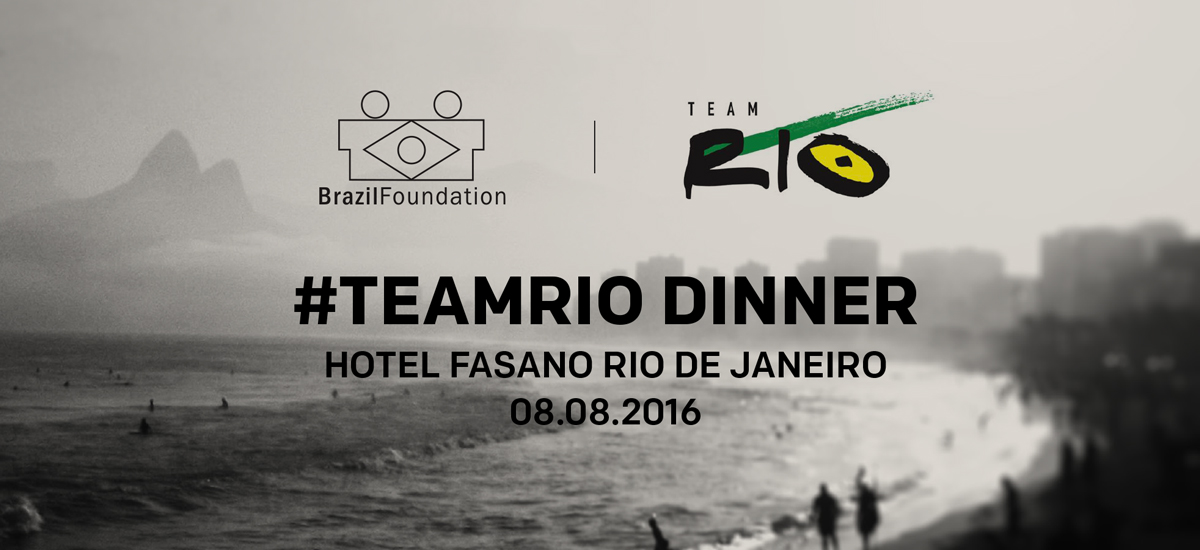 When it was announced in 2009 that Rio would host the Olympics, BrazilFoundation created a fund dedicated to the city. Since then, the fund has mobilized enough resources for 53 initiatives. The #TEAMRIO campaign was created by opinion-shapers and cariocas at heart to bring visibility and resources to the fund and to help create a positive social legacy for the city.
The dinner brought 100 people together in celebration of the inspirational #TEAMRIO initiatives and the Paralympics.
When: Monday, August 8, 2016
Where: Hotel Fasano Rio de Janeiro
Even if you can't attend the event, you can still participate in the #TEAMRIO campaign here. 
Nizan Guanaes & Donata Meirelles
Vik Muniz & Malu Barretto
Chairs: Rogerio & Ana Joma Fasano, Alessandra Ambrosio, Cafu
Co-Chairs: Andrea Dellal, Francisco Costa, Marcus Vinícius Ribeiro, Oskar Metsavaht, Paula Bezerra de Mello
Host Committee: Adriana Varejão & Pedro Buarque de Hollanda, Alexandre & Renata Accioly, Bruno Astuto, Beto Pacheco, Cesar Villares, Constantino & Melanie Bittencourt, Daniela Falcão, Flavio Canto, Flavio Machado, Marc Lemann, Marcio Botner, Mariko Mori, Marina Morena, Patricia Romano, Pepeu Correa, Roberto Marinho Neto, Taci Veloso, Terron Schaefer, and Theotino Chermont de Britto.
Presenting Sponsor
Sponsor
Benefactors
Media Partners
Email: press@brazilfoundation.org
[envira-gallery id="15464"]