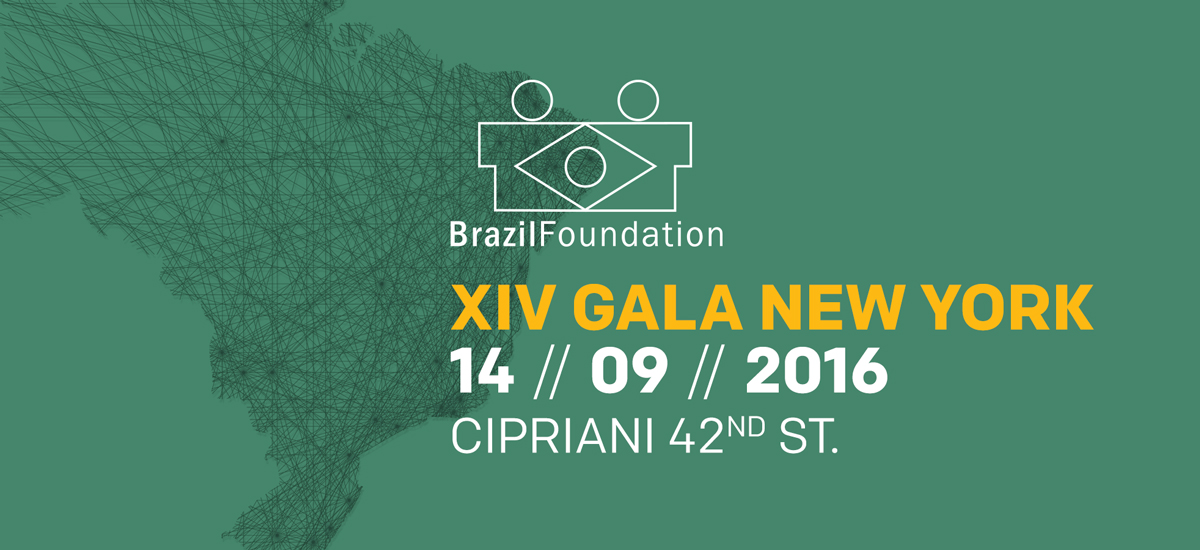 If you couldn't join us at the gala, you can still make a donation here:
When: Wednesday, September 14, 2016
Where: Cipriani 42nd St., New York
Masters of Ceremonies: Julia Goldani Telles, Pedro Andrade
Auction Presenters: Juliana Paes, Raphael Miranda
Performances by: DJ Zé Pedro, Elba Ramalho, Samantha Schmutz
Special Guests: Os Arteiros
Honoree: Francisco Costa
Brazilian Community Award: Liga do Bem, Morato Family, Rafaela Rangel
Benefactors: Alyson & Will Landers, Bloomberg Philanthropies, Iracilda & Pedro Lichtinger, and Roberta Mazzariol & Jean-Marc Bouchut.
Patrons: Bank of America - Merrill Lynch, Bradesco Securities, Citibank, Credit Suisse, EVA Capital Management LP, Francisco Costa, In Plus Inc: Cristiana Mascarenhas, Itaú BBA, JP Morgan, Marcus Vinícius Ribeiro, Natura Brasil, Safra Bank of New York, Silverpeak Real Estate Partners, Stella Artois, and UBS.
Host Committee: Alessandra Emanuel, Andre Almeida, Angela Magarian, Bruna Braga, Bruno Negretti, Bruno Simonato, Camila Penna, Celeste Owens, Christina Bhan, Cristiane Cavalcante-Buntin, Daniel Urzedo, Eduardo Vergueiro Leite, Fabienne Lamont, Flavia Cattan-Naslausky, Gabriela Duarte, Jeane López Muñiz, Julia dal Pont de Azevedo, Lenka Soares, Luciana Curtis, Manuela Giannini, Marcia Tucker, Mauricio Morato, Michelle Viana, Nana Cunha, Natalia Beber, Rafael Azzi, Rafaela Rangel, Ricardo Martiniski, Roberto Simonsen, Sérgio Esteves, and Vanessa Pereira.
Thank you to all auction donors and bidders for making the auction a success! You can still check out the items here!
Sponsors
Partners
| | | |
| --- | --- | --- |
| | | |
| | | |
Email: events@brazilfoundation.org
Download release here.
[envira-gallery id="15714"]