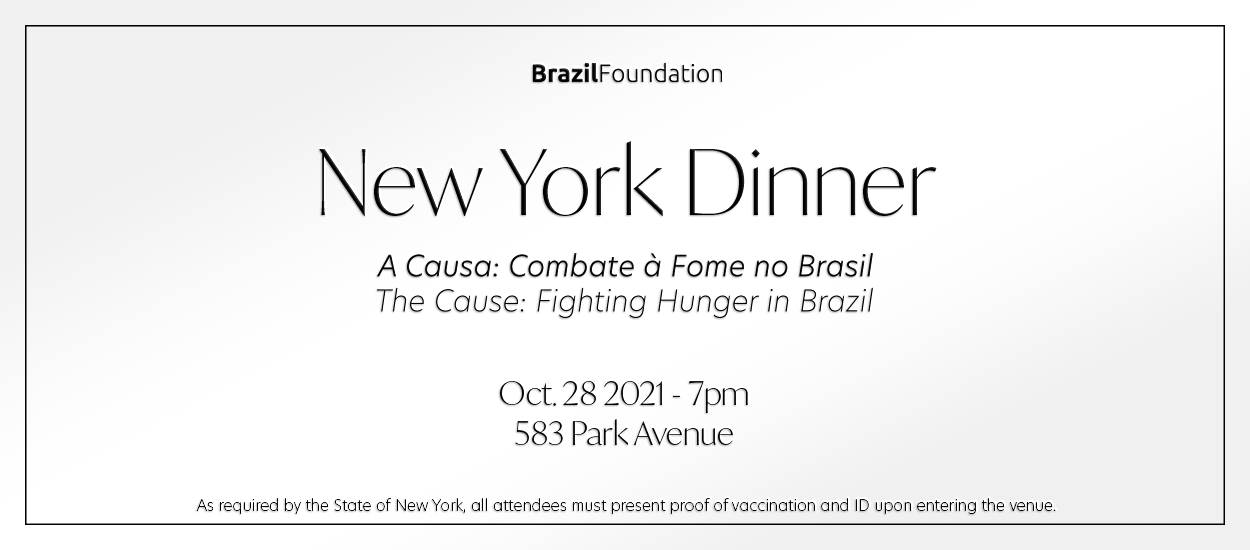 The Cause: Fighting Hunger in Brazil
BrazilFoundation will return to holding in-person events, starting with its annual dinner in New York. The event will raise funds for additional humanitarian COVID-19 relief in Brazil, and will also celebrate notable social leaders who have made important contributions to fighting hunger in the country during the pandemic.
Safety
The event will host a maximum of 400 guests. As required by the State of New York, all attendees must present proof of vaccination and 1D upon entering the venue.
When
October 28th, 2021 | 7PM (ET)
Where
583 Park Avenue
New York, NY 10065
Show
Claudia Leitte
Honorees
Edu Lyra
Edu Lyra is the founder of Gerando Falcões, an organization that serves thousands of families in favelas all around Brazil through education, culture, professional training and income generation. During the pandemic, GF raised more than R$ 60 million, benefiting around 1 million people with the "Corona no Paredão, Fome Não" campaign. Edu was selected by the World Economic Forum as one of fifteen young people who can change the world, thus joining the Global Shapers team. In 2020, he received the Valor Econômico award, as the Social Entrepreneur of the Year, due to the huge success of the campaign to fight hunger, and the Folha de São Paulo Social Entrepreneurship Award.



Gisele Bündchen and the Luz Alliance Fund of BrazilFoundation
Model Gisele Bündchen, who is also recognized for her philanthropy, created, in 2020, the Luz Alliance Fund at BrazilFoundation to help aid families affected by hunger due to the Covid-19 pandemic. So far, more than R$7.7 million have been raised, reaching thousands of Brazilians with emergency food aid and supplies. Gisele brings altruism as a legacy of her father and, together with her family, is dedicated to creating a better world.




Thomas A. Shannon, Jr.
Ambassador Thomas A. Shannon, Jr. served as Under Secretary of State for Political Affairs, the third highest ranking position at the State Department. During his tenure as United States Ambassador to Brazil (2010-2013), fifteen accords were signed in areas of environment, women's rights, trilateral cooperation, intellectual property, commerce and defense, among others. Brazil-US cooperation greatly expanded in science and technology, and 6,000 students studied in the US through the "Ciência sem Fronteiras" program. Shannon is Co-Chair of the Inter-American Dialogue Board of Directors, Co-Chair of the Brazil Institute at the Wilson Center, a member of BrazilFoundation's Advisory Board and an Advisory Council member of the Center for Strategic and International Studies (CSIS), inter alia.
BrazilFoundation's Human Rights Award
Zelia Amador de Deus
Dr. Zélia Amador is one of the most important names in the anti-racist movement for the rights of the Black population. Artist, Black Movement activist and professor emeritus at the Universidade Federal do Pará (UFPA), she is currently Professor at the Institute of Art and Sciences and advisor on Diversity and Inclusion at UFPA. She is co-founder of the Center for Studies and Defense of the Negro do Pará and of the Afro-Amazon Study Group; she was vice-rector of UFPA; president of the Brazilian Association of Black Researchers; and Member of the Collective of Black Intellectuals. Dr. Amador holds a Bachelors Degree in Arts from UFPA, a Master in Literary Studies from the Federal University of Minas Gerais and a PhD in Social Sciences from UFPA.
Masters of Ceremony
Ingrid Silva
Marco Pigossi
Co-Chairs
Claudia Amboss
Claudia Amboss is an interior designer and event planner, currently working at her company Projecta Interior Design. A BrazilFoundation supporter for over 15 years, she has organized various fundraising events for the foundation. Furthermore, she and her husband Rodolpho Amboss sponsored the foundation's past four galas. She co-chaired the Live Benefit in 2020, and is currently a BrazilFoundation board member leading its fundraising and marketing committee.
Cristiana Mascarenhas
Cristiana Mascarenhas is a Brazilian architect. For the last 30 years she has led In Plus, Inc., an interior design studio in New York that also works out of Brazil and Europe. She is a long-time BrazilFoundation supporter, and participated in the 2020 Live Benefit's committee.

Mauricio Morato
Mauricio Morato is an economist and former banker in Brazil and the U.S. He has been a longtime supporter of BrazilFoundation, first as a volunteer and then as a board member from 2019 to 2021. At BrazilFoundation, Mauricio led the board's Development and Marketing committee, and co-chaired the 2020 Live Benefit. Currently, he leads the international fundraising arm of Rede Gerando Falcões, a São Paulo-based CSO.


Auction Donors: American Airlines, Carla Amorim, Cristiana Mascarenhas,
Cristina Pye, Espasso, Fasano Hotel, Galeria Nara Roesler, Gate, Gustavo Prado, Heloisa Maia, Instituto Mario Cravo Neto, João Carlos Galvão, Maria A. Leininger, Maritza Caneca, Martinhal Resorts, Simone Kestelman, Tarsilinha do Amaral and Buffet Duas Gastronomia, with special thanks to Andrea Bartelle and Vera Andrade
Curated by: Maria A. Leininger

Junior Amaro: jamaro@brazilfoundation.org
Phone: +1 646 657 5088
[envira-gallery id="40586"]
Photo credits: Carol Biazotto, Leandro Justen, Rebeca Axelrud Galbinski, Ricardo de Mattos