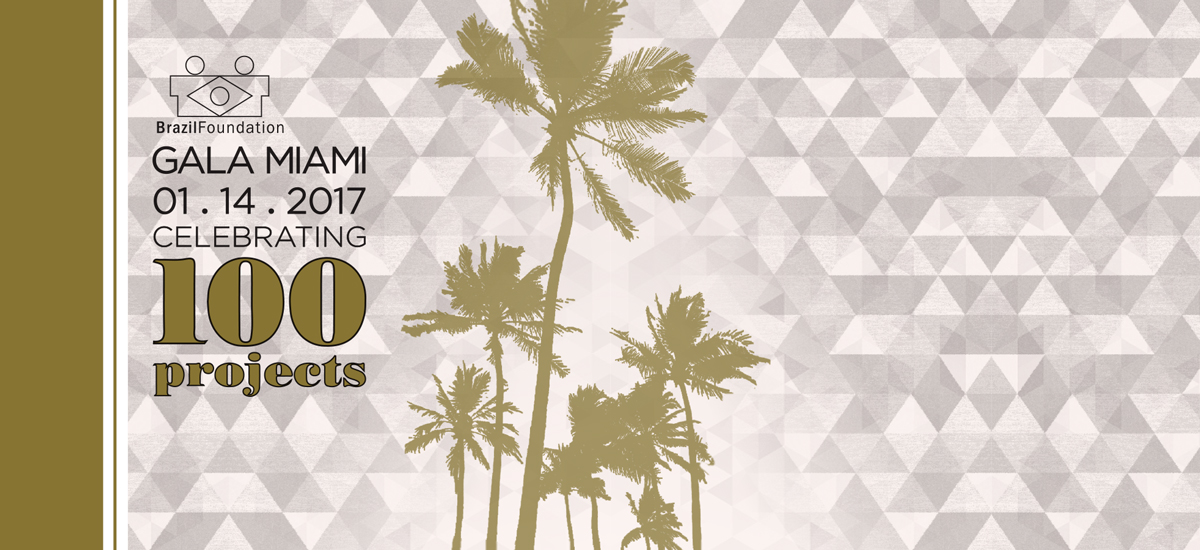 When: Saturday, January 14th, 2017
Where: New World Center
500 17th Street
Miami Beach, FL 33139
Masters of Ceremonies:    Isabella Fiorentino & Thiago Fragoso
Musical Performance:       Fernanda Abreu
Howard Herring, Side by Side Project, New World Symphony

Howard Herring, a pianist by training, became the President and CEO of the New World Symphony (NWS) in 2001 with the charge of revitalizing the institution's national and international profile and mobilizing the forces necessary to create a facility to support the institution's future. In January 2011, NWS opened a new campus designed by Frank Gehry, designed to further the education of its Fellows, explore digital technology, serve the Miami community, and establish NWS' experiential curriculum at the crossroads of music, education, technology, and architecture.
This year the NWS is offering advanced instrumentalists from Brazil, age 16-22, an opportunity to perform in Miami Beach, Florida, for the New World's Side-by-Side concert on April 22, 2017. This special educational program offers them the chance to come to Miami for a week to receive coaching from NWS Fellows and practice with South Florida youth before their public concert under the baton of NWS artistic director Michael Tilson Thomas (MTT).
Marcelo Schettini, Founder, SOS Dental

SOS Dental provides emergency dental care through mobile clinics throughout Brazil and in other parts of the world. Marcelo Schettini founded SOS Dental in 2008, but became inspired with the concept as a child - after a dental emergency inspired him to become a dentist who would provide care regardless of financial means. After years of leading a network of clinics that provided low cost dental services in Rio, he decided to design and patent a mobile clinic that fits on the back of a motorcycle, and that would eliminate the transportation-cost barrier and reach more patients. A BrazilFoundation grantee in 2014, its system of providing low-cost emergency dental care has gained worldwide recognition. Its project Dentista na Favela provided free dental care to nearly 9,000 residents of Complexo do Alemão.
Simone Leitão, Pianist, Founder and Director of Academia Jovem Concertante

Simone Leitão enjoys a solid career as a soloist, chamber musician and recitalist around the world, and is today one of Brazil's most sought-after pianists. She holds a Doctor of Musical Arts in Piano Performance and Musicology by the University of Miami Frost School of Music, USA. Known for her technical mastery, fiery performances and industrious personality, she has helped grow audiences and boost youth training in Brazil. She is the founder and artistic director of Academia Jovem Concertante, Rio International Chamber Music Week, and Minas International Chamber Music Week. In 2015, Simone donated proceeds from her annual concert at Carnegie Hall to Coletivo Papo Reto, a BrazilFoundation grantee.
Academia Jovem Concertante travels throughout Brazil discovering young talent, providing young musicians access to the job market, and bringing music to places that lack cultural outlets. The proceeds from her projects are reverted to institutions that promote social inclusion through music, including Orquestra da Grota, a BrazilFoundation grantee in Rio.
Benefactors
Alexandre Piquet, Baker & McKenzie, Banco do Brasil, Banco Itaú, Goldman Sachs, IWC, Jo Paes Fashion, Maria Carolina & Paulo Tavares de Melo, and Studio D
Host Committee
Adriana & Rodrigo Vianna, Alexandre Piquet, Ana Dutra,Chrissie Litenski, Daniela Fonseca Puggina, Dejovanca & Rogerio Paes, Fernanda Gavazzi, Gisela Millian, Luciana Junqueira, Maria Carolina & Paulo Tavares de Melo, Priscila Querasian, Neila Rudden, and Rejane de Paula
The live auction will take place during the gala on January 14th at 10:30 PM. You can make bids now, even if you will not attend. Bid here.
Download the press release here.
Email: events@brazilfoundation.org